COVID 19
With the easing of restrictions starting, we have relaxed the limitations when visiting the practice. We have begun allowing one person per pet to come into the consultation room. Each person must wear a face mask.
Guidelines:-
As always, should you have any symptoms of COVID 19 , however mild, or are in self isolation, do not attend the surgery but arrange for a friend to bring your pet.
On arrival, either phone or visit reception to announce you are here for your appointment. Ideally we would ask you to then wait in your car, until either the vet or nurse comes to bring you into the consulting room. Should it not be possible to wait in a car, then clients can wait in the waiting room, but to maintain social distancing this will be limited to 2 people, i.e. 1 person per pet, 2 individual appointments, at any one time.
We would ask that clients maintain a one way system, when moving through reception, entering at the main door and exiting at the side door.
Consultation rooms will be sanitised between appointments for your safety. An automatic hand gel dispenser is available at reception.
During consultations we would ask that social distancing is maintained as much as practically possible. Face masks must be worn while in the surgery, and please ensure these are worn correctly (covering nose and mouth).
Should clients prefer not to enter the practice, we can continue to discuss the case with you in the car park and subsequently take your pet into the consulting room for examination and treatment.
These guidelines will apply whether clients are vaccinated or not, as vaccination does not guarantee protection nor stop transmission. Your cooperation and understanding is greatly appreciated.
We would like to thank our clients for being tremendous and so supportive during the pandemic and lockdowns in both 2020 and into 2021. We really appreciated how understanding everyone has been, and would like to thank people's generosity with gifts to support how hard our staff have worked to maintain veterinary care.
To all our clients Keep Safe in these difficult times
CORRECT WAY TO WEAR A FACE MASK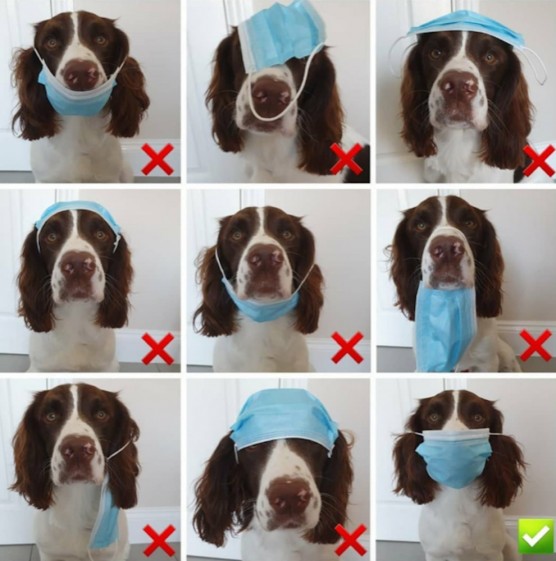 Horse Clients - during these unprecedented times Rose Cottage Veterinary Centre will continue to provide veterinary care for your horse in the case of an emergency.
If your horse is not well, please telephone the surgery and one of our veterinary surgeons will happily discuss your concerns and advise on the best course of action.
Vaccinations: the most recent directive from the Royal College of Veterinary Surgeons allows us to vaccinate horses. We are delighted that they have changed the previous ruling so it is now possible for us to administer your horse's booster vaccination.
When we visit your yard we respectfully ask that to protect both yourselves and our staff, everyone adheres strictly to social distancing. To minimise the number of journeys our Veterinary Surgeons have to make, we would be grateful if you could, where possible, orgainise your vaccination to be done with others on your yard. Alternatively if anyone needs a visit to a sick or acutely lame horse, then perhaps have your vaccination done at the same visit.
You will be asked to put a headcollar on your horse and then stand back and allow the Veterinary Surgeon to proceed with the examination.
Important: If you are at all unwell, or have been in contact with anyone who has symptoms of Covid-19, please do not attend when we visit, but ask someone else to identify your horse for us.
Thank you very much for your co-operation and understanding. Stay Safe.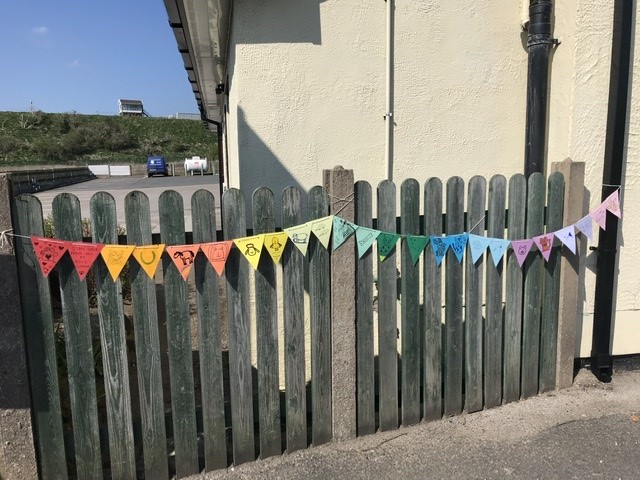 The team manning the practice during this lockdown period, have drawn animal characters on coloured triangles to make a RAINBOW to bring hope to everyone enduring these hard times