LOUISE RAY R.V.N. - Head Nurse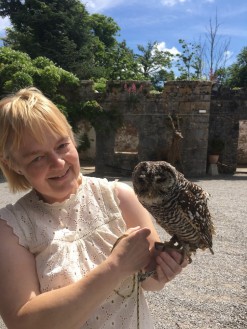 Louise joined us in 1986, two years after we opened. She has progressed to become our Head Nurse. She generously passes her extensive knowledge on to our up and coming nurses, and is very supportive to them. In her spare time, Louise enjoys keeping fit, walking, reading, dining out and holidays.
Louise processes the majority of insurance claims submitted to the practice. In 2013, Louise re-homed an injured hedgehog in her garden, called Munchkin, and under her care did great! She is now our Hedgehog hand rearing guru!!
JANE WOOD R.V.N. - Deputy Head Nurse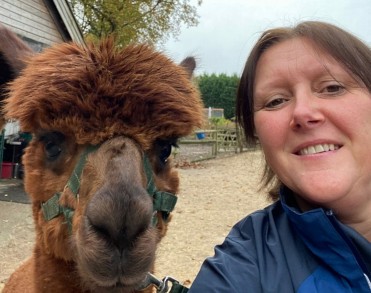 Jane joined us in 1992, and qualified as a Veterinary Nurse in 1995. After meeting her partner Trevor in 1991 she made the 225mile trip to relocate to Cheshire where she began her Nursing career. She gained a certificate in the nursing of Exotic species and British wildlife in 2004. Due to her extensive knowledge and expertise, she is our Clinical Supervisor responsible for training so many of our great student nurses. Jane has three beautiful rescue cats named Brian, Kevin and Dennis who are her permanent residents, but is famous for taking on a plethora of wildlife in need of her TLC!
She loves playing Golf, cycling, walking, going out for dinner, cooking/baking and has a very green thumb! You'll often find local birds taking advantage of her beautiful garden all year round. Her passion for Golf even takes her around the world and her favourite place (so far) is Spain!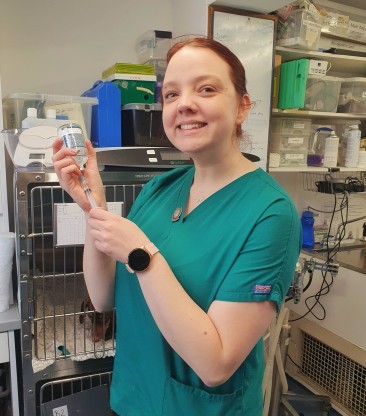 Nikki joined the practice in 2009 and qualified as a registered veterinary nurse in 2016. She is actively involved in our nurse clinics and is a brilliant and supportive member of the team.
Her hobbies include reading, sewing, cross stitching and shopping. Nikki has a beautiful young boy named Leo and is a doting mother, spending most of her free time playing with dinosaurs!
Nikki has two guinea pigs, Toes and Big Pig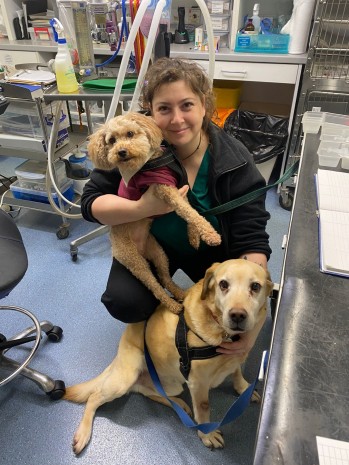 Laura joined the practice in 2010 and qualified as a registered veterinary nurse in 2019. Her hobbies include reading, baking and walking with the dogs. A healthy Disney and Taylor Swift obsession. Laura enjoys spending time with her family and husband Matthew, and also great at growing her own vegetables. Laura is a keen zero waster and has an interest in sustainability. Laura has a passion for working with senior patients and exotics. Laura has 3 cats, Florence, Eugene Fitzherbert and Corky, Tilly the Poodle cross and Hunter the yellow Lab. She has also recently taken on another Rose Cottage waif, and named her Clementine, and is fitting in with the family well! Laura loves learning in her spare time and is currently working towards her Exotic and Zoo species certificate.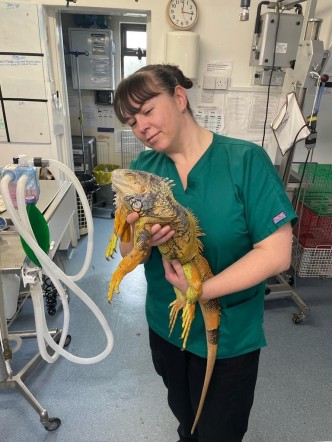 Emma joined the practice in 2007, qualifying as an RVN in November 2020. She quickly proved to be an invaluable and essential member of our team, with skills all around the practice! She's a great support for everyone here, especially the Junior Nurses who always run to her with their questions as they know they'll always get a great answer!
She loves her work as a Nurse, particularly looking after the in-patients, helping clients with their pets through Nurse appointments and all the ins and outs of anaesthesia.
Her hobbies outside of work include swimming and going to the cinema, as well as dining out and watching her son Jordan play football on the weekends. Jordan supports Liverpool, while Emma secretly supports Manchester United!
At home she has a very cute and lively American Bulldog named Cali, four hand reared kittens (who are now grown up!) called Binx, Luke, John and Cam, and two Netherland dwarf rabbits called Peanut and Theo.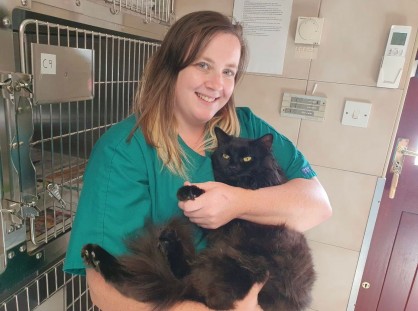 Kim is a very experienced member of our team, and has been nursing for over 14 years, gaining her R.V.N qualification in 2017. At home she has a beautiful daughter named Esmae who she loves spending every minute with! She has two cats, Simba and Nala, a Boxer named Lottie, and recently adopted a stray black rabbit from Rose Cottage that her daughter fondly named Rosie. Originally from Chester, Kims previous role before joining us was in an urgent care facility, making her brilliant under pressure and in emergency situations! Her favourite part of being a Nurse is working with the inpatients, being able to follow each case through gives her a lot of satisfaction. Her main interests lay in emergency surgery and those tricky cases that need intensive treatment. Coming to Rose Cottage, she's keen to get the chance to work with more exotic species.
In her spare time she loves travelling and her favourite places so far have been Jamaica, Florida and Cuba and would love to one day see the Northern Lights!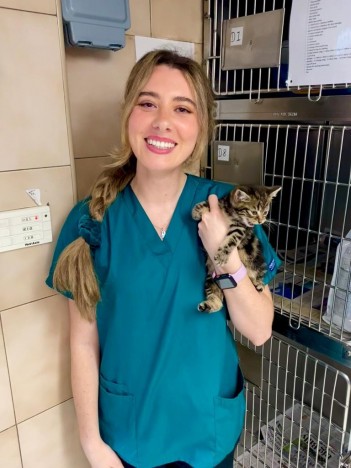 Holly joined us as a receptionist in 2016 but soon became an Auxiliary. Since then, she has completed her training with us and it now a Registered Vet Nurse! She even, unsurprisingly, won an award for 'Best Final Year Student - Wigan 2023' due to her sunny attitude, big smile and determination! Her favourite part of the job is working alongside the inpatients as she gets to form strong bonds with our furry clientele! Holly has a cat called Russell, named after her crush Russell Crowe, from her favourite film Gladiator! She also has a rescue Lurcher called Winnie, who keeps her busy outside of work and is the apple of her eye! She's and invaluable member of the team and we're really proud of how she smashed her RVN training!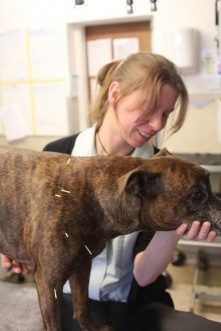 Gemma joined us in 2009. Her hobbies include indoor climbing, walking, swimming and metal hand stamping, enamelling and general crafts. She has a keen interest in farming and mechanics.
Gemma enjoys time with her family and time spent with her pets. Gemma's husband is tractor mad and shares her love of her pets. She has a large collection of pets, 2 dogs Queenie and Connor, 2 cats Jasmine and Ivy,2 rabbits called Clover and Harlan, a bearded dragon called Ember, a crested gecko called Benji, 3 spiders called Aster, Nova and Danica, 3 quails called Quentin, Piglet and JJ, and a fish tank.
Gemma has recently achieved her VCA certificate.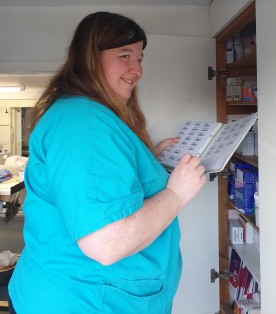 Sarah joined us in 2001. She is in charge of ordering our stock, a very important job in the efficient running of the practice! Her hobbies include walking, reading and travelling. She enjoys family time and socialising with friends. She has 3 cats, Joe, Zookie and Tyler.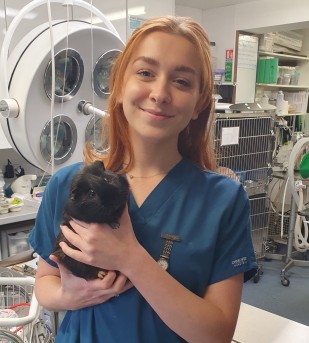 Amy started back in December 2019, originally only working Saturdays. She then progressed to a full time position, as an Auxillary veterinary nurse, with the long term goal of qualifying as a registered veterinary nurse. Amy has a dog called Lola and 2 bearded dragons. Amy enjoys playing netball in the local leagues and is a brilliant wing defence! Her favourite part of the job is being able to be hands on with every single animal that comes through the door, whether it be dogs, cats or wildlife. Amy has now started her training to become an RVN and is doing amazing!
Jen joined us in August 2021 after spending 14 years working as a Zoo Keeper. She worked alongside many exotic species such as Elephants, Giraffes, large and small carnivores, reptiles, invertebrates and aquatics. Her passion for exotics and love for animals is certainly reflected in her pets at home. She has 3 Tortoises (Pip, Nugget and Smudge), 2 Panther Chameleons (George and Dotty), a Royal Python called Elsa, and finally, for now, 3 dogs Mylo, Marty and Murphy!
Jen enjoys spending as much time as she can with her family and 3 children. She loves DIY, decorating and crafting, and if she every manages to get a spare minute, enjoys watching Disney and other TV series.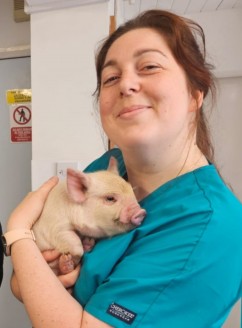 Verity joined us in November 2021, after 5 years working in a local Safari Park. Prior to this, she lived and worked around the world including Australia, the Arctic Circle, Tunisia and Abu Dhabi. She had the pleasure of working with many different animals on her travels from reindeer, penguins, wallabies and the endangered shearwater. At home she has 2 Chinchillas (Pippa and Mouse). She has recently taken on a beautiful stray kitten, with half an ear and two broken legs! Despite this she is the most feisty and friendly kitten you've ever met! In her spare time she loves to bake treats for her Chinchillas and on weekends you will find her out and about at a Car Boot sale!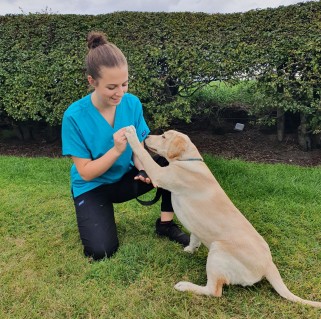 Rubi initially started here in early 2022 as part of her work placement section of her Animal Management course at Reaseheath College. Her enthusiasm and dedication to this role impressed everyone here so much, that we snapped her up for a paid position in March! At home Rubi has two horses called Bella and Grace, a sausage dog called Ava, three cats named Georgie, Clover and Sebastian (whom she'd rescued from here not long after she started!) and a gaggle of chickens, ducks and ducklings. When she's not working or studying, she's a keen snowboarder and horse rider and enjoys treating herself to some well deserved retail therapy on weekends!
Charlotte is one of our newest members of the team and is already an asset to our practice! Graduating from Nottingham Trent University in 2012 with a Fine Art Degree, she has spent the next 10 years committing herself to customer service and supervisory roles. In her spare time she enjoys pursuing her talents in drawing and art as well as spending her weekends travelling around the UK. She's also a keen reader with her favourite genre being literary fiction. At home Charlotte has a tank of Tropical fish, two Budgies called Dolly and Polly, and a rabbit named Cookie! Since working here, the desire for a new cat in her life has rocketed and loves giving all the kitties that come in a big cuddle! She has since adopted a beautiful Ragdoll named Alfie, who is the light of her life!