JEN QUAYLE B.V.Sc, MRCVS - Director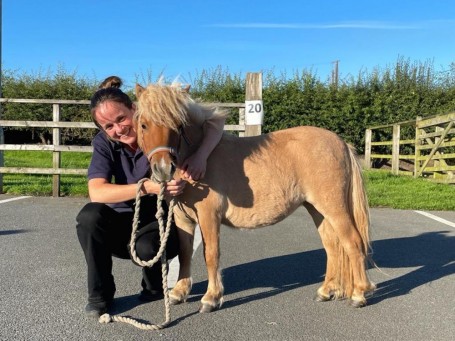 In 2006, Jen arrived as a student to do her Extra Mural studies, while in her 3rd year at Bristol Vet School. Upon graduating in 2008, she joined the practice as a fully fledged vet.
Since joining, she has developed an extensive knowledge of zoo animal medicine, and is the official veterinary surgeon for Knowsley Safari Park. As well as her role at the park, she enjoys all aspects of veterinary practice.
When not at work, she enjoys competing with her horses Yoda and Smirnoff in dressage, showjumping and eventing. She has two beautiful rescue dogs, Arthur and George who frequent the practice and make everyone smile! She also has a Dumerils Boa snake called Milo. She also enjoys snow boarding.
Jen is one of the Directors of Rose Cottage Veterinary Centre
JOE MARTIN BVSc, Cert AVP (SAM), MRCVS - Director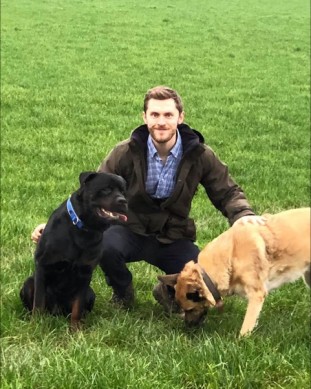 Joe joined Rose Cottage in 2017, after graduating from The University of Liverpool Veterinary School and has since become a director of Rose Cottage Veterinary Centre.
Joe loves all aspects of mixed practice but has a particular interest in small animal medicine and surgery.
He has a certificate in advanced small animal medicine.
Joe accepts referrals for small animal medicine and acupuncture.
Outside of work he enjoys spending time with family, friends and his two dogs Paddy and Pepper. Any additional time he has is spent training for and competing in ultra triathlons.
LIZ GORSE B.Vet.Med, MRCVS - Retired Director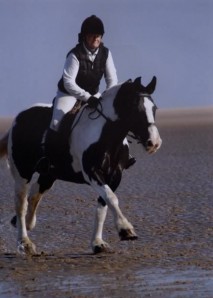 Apart from two (short) spells of maternity leave, Liz, a London vet school graduate, has worked at Rose Cottage Veterinary Centre since it was opened by Norman Henry in 1984.
Liz is married to Harry and they have two children, Pete and Sarah.
Liz has a particular interest in horses and has a Royal College of Veterinary Surgeon's Certificate in Equine Practice.
Horses also feature strongly in her home life. Liz has ridden and enjoyed equine country pursuits since being a child. The Gorse family also enjoy point to point racing. Pre-children Liz rode herself. Years later when Sarah was competing it was a great family day out – Liz drove the wagon, Sarah rode, Pete lead the horse up and told his sister how to ride the race and Harry drank the wine!
Now Pete and Sarah have left home and produced two delightful granddaughters – it will only be a case of time before Grannie buys them a lead rein pony and starts again on the Pony club circuit!
Liz was one of the Directors of Rose Cottage Veterinary Centre but has recently retired as Director.
WILL ALLWOOD B.V.Sc MRCVS - Vet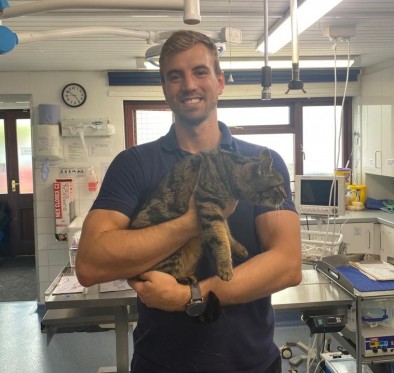 Will graduated from The University of Liverpool in 2019 and has been practicing here at Rose Cottage since then.
He has a broad range of interests within his work, in particular carrying out soft tissue surgery and working on neurological cases. Will really enjoys working with small holders as he enjoys noticing the positive differences he makes to farmers and their livestock on a short and long term basis.
Away from work, he enjoys long walks with his partner and young dog Maggie, as well as spending time with his adorable son Charlie. He also has 2 cats, Lemon and Millie, both of which he rescued from Rose Cottage.
When not with his family and pets, Will enjoys running, swimming and painting.
MAISIE O'REILLY - D.V.M MRCVS - Vet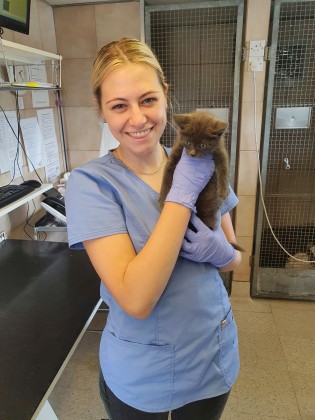 Maisie qualified from the University of Environmental and Life Sciences Wroclaw in Poland, however was born and raised in Shropshire. She has a keen interest in Equine medicine and enjoys being out and about in the countryside, visiting her biggest patients!
In the surgery, Maisie really enjoys consulting as she loves to hear all about your pets, and getting to know you all on a long term basis.
She's already made a great impression here at Rose Cottage. She is incredibly committed to each and every patient she sees and will ensure the very best care is given to your loved ones.
When she's away from the practice, she loves to explore her new surroundings as well as spending long weekends travelling. When she's at home she spends time with her pony Beanie with whom she competes with regularly in mounted games.
MEG OAKELEY BVSc MRCVS - Vet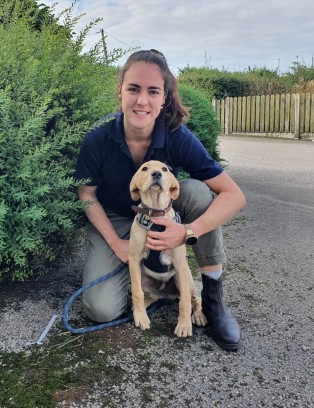 Originally from Yorkshire (and a big fan of Yorkshire ale), Meg graduated from the University of Liverpool and stayed on the Wirral with her geriatric cat; Kylie. She loves the pace and variety of mixed practice and is currently working towards an advanced veterinary practitioner certificate.
Meg is from a dairy farming background and enjoys her large animal work, she is also a keen horse rider who has worked with sports horses since she was young. In the practice, Meg has a particular interest in surgery and enjoys the challenge and reward of emergency cases. She has a soft spot for big dogs!
Meg has also been in the Army Reserve since 2015 and is currently Second in Command of a Queen's Own Yeomanry Squadron in Chester. On her days off, you will likely find her trail running up a mountain, hurtling down one on a bike or snowboard, or shooting clays and baking when her legs get tired!
TOBY STEPHENSON B.V.M B.V.S MRCVS - Vet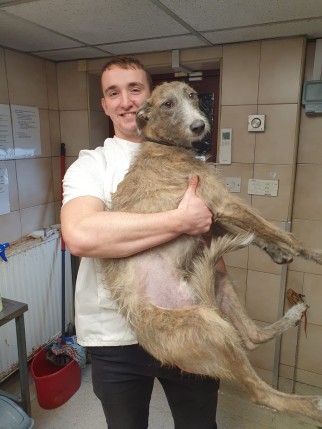 JENNA WILSON B.V.M B.V.S MRCVS - Vet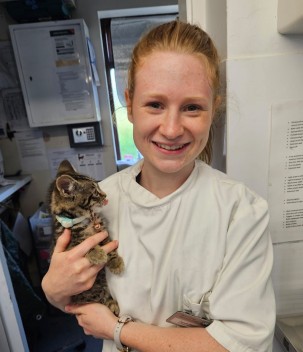 LUCY SEDDON B.V.M B.V.S MRCVS - Vet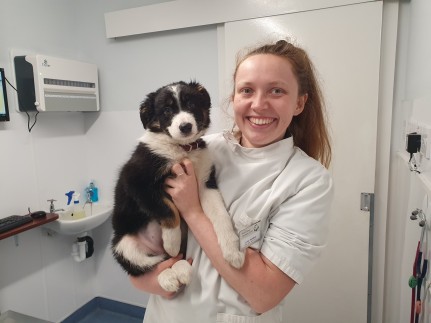 Lucy graduated from The University of Nottingham back in 2021 and has since been working in a mixed practice in North Wales. Born and bred in the Welsh countryside, Lucy loves being outside, walking her dog (Genie the Cocker Spaniel) and riding her horses Millie, Heidi and Tonto! In her previous practice, one of the coolest things she got to do was TB test a herd of Bison and carry out caesarean sections on a number of cows! One of her favourite parts of the job so far is building up rapport with her clients and their pets, and loves watching them grow up as happy healthy animals. She already has a keen interest in animal reproduction and fertility, and is excited to develop her proficiency and knowledge in this, as well as her surgical skills.
When she's not at work or hanging out with her cats Socks and Flame, she enjoys travelling and is very much looking forward to her trip to Hawaii this summer!
MATT WATSON B.V.M B.V.S MRCVS - Vet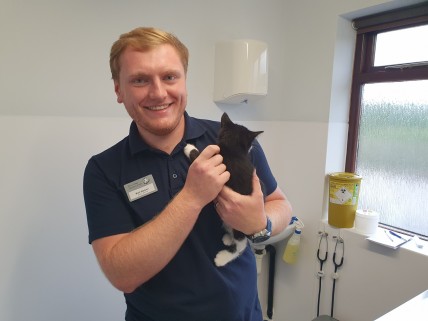 KEN ROBINSON BVMS, Cert SAD, MRCVS - Retired Director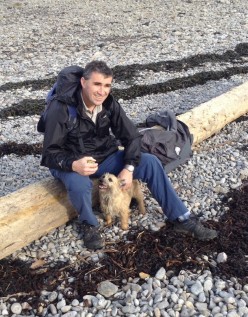 Ken gained his Veterinary qualification from Glasgow University in 1981. He joined the practice in 1990 and later became a partner. Ken holds a certificate in Dermatology which is his area of expertise. Along with his keen interest in dermatology he enjoys small animal surgery, exotic animal medicine and surgery and acupuncture. The practice, through Ken, accepts dermatological referrals, and will also accept cases for acupuncture
Ken is married to Anne who is also a vet. They have a son called Jamie, 2 cats called Slinky Malinky and Vinny, and a terrier cross called Halle.
Ken enjoys playing golf, walking, photography, watching rugby and football, and spending time with his family. He has co-edited the BSAVA Manual of Canine Practice, and wrote 2 of the chapters, skin diseases and disorders of the canine paw.
Ken was one of the Directors of Rose Cottage Veterinary Centre, but has recently retired
NORMAN HENRY MVB, MA, DBR, MRCVS - Retired Director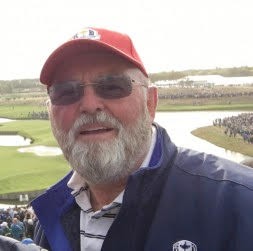 Norman qualified from the University of Dublin in 1971 and along with his wife established Rose Cottage Veterinary Centre in 1984. He holds a Diploma in Bovine Reproduction. Until 2014, Norman was a director but passed on his directorship to Jen.
Norman has officially retired but still does some work for the practice!
Norman is married to Christine with three children and three grandchildren.
Norman is a keen golfer and is a past Captain of Helsby Golf Club.
Christine and Norman have a cat called Milly who enjoys a very comfortable life.