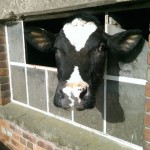 We carry out a range of farm work, from routine fertility work and health planning to emergency visits. As well as larger farms, we provide veterinary care for small holders and hobby farmers.
We regularly see alpacas, goats and pet pigs, as well as cattle and sheep. We are also happy to see pet or backyard chickens at the surgery.
See our article on chickens uner the What's New section of the website.